Yoga Retreats
FREE YOGA RETREAT
Free lessons
Yoga is balance that this world urgently needs. We want to provide this to everyone without using money, so that you can keep your balance and we keep the yoga what it really is - not a way to make money, but to find balance.The gift economy scheme allows us to offer you free yoga retreats here in the Algarve in Portugal. Sponsored by the Freevolution...
WHY IS IT FREE?
---
The yoga
Because we are not bound to earning money, you'll get a very personal experience. No 20 people in a class and we actually remember your name. Therefore the yoga can be catered to your needs and wants. In a day there's the morning and the evening yoga classes with asanas (postures/movements). In between you can also learn about meditation, breathing techniques, nutrition and more. Next to the yoga retreat we also offer surf classes, meditation and permaculture tuition on-site, in case you're interested to join that as well. The groups are very personal (up to 4 students), speaking of calm and tranquil!
---
The retreat
The retreat is kindly offered by the Shambala meditation center about 8km east from Aljezur. In the middle of the forest you find this beautiful "hippie-valley", where life is really simple, but beautiful. If you don't have your own transport, we can pick you up from Aljezur for a small petrol contribution. If you want to stay around, you are welcome to stay in our tents.
---

Free accomodation in tents

Plantbased attitude

Aljezur, Portugal

max 4 guests
All free, thanks to the
Freevolution gift economy
...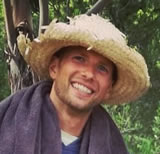 Hi, I'm Dan.
Surfer - Teacher - Eco-activist
I'm the crazy nut that started all this and I'm looking forward to share my passion with you.
For the last 10 years I've been working in watersports centers in germany around the world as an instructor for multiple watersports as well as in managing positions. I started out keen to share my passion with people and make a living with it. Soon enough reality kicked in and I realized that if I want to make a living, I either need focus on making business or keep it as a hobby. Business mostly means not working for the people, but working for the money and what once was my passion (teaching watersports) now just was another job - satisfying customers, bosses and employees.
Free is better
The gift economy offered me a new way of approaching my lifes' passion and appeal...
Without a payment, you don't have anything to loose, no expectations - hence you can appreciate what you get with different eyes.
Without asking for money, I don't feel pressured to perform and can stay authentic - this in return is something you will feel.
With a gift economy gratitude and passion can meet again - happiness on both sides is the result.
See for yourself
Come by and experience the benefits of a free course for yourself - can't loose much, can you? Next to the yoga retreat I also teach surfing, meditation and permaculture, so if you want to stay for a bit you can learn what the gift economy means to me.
Aljezur, Portugal
Aljezur, a little town in the northern part of Portugals Algarve has become a surf city in the recent years.

Only 10-15minutes away from three popular beautiful west coast beaches it's a great location to sit back and relax. If you're more like me and want some time to rest, you're welcome to book the accomodation (simple tents) at the Freevolution camp 10 car-minutes from Aljezur.

The yoga retreat is located in the hinterlands of Aljezur; a really calm handmade campsite in the forest. We only have a few neighbours remotely - the place is a haven for relaxation and recuperation. Surrounded by portuguese forest on the westcoast of the Algarve, it's easy to detach from the pointless stress of modern day-to-day life. There's also plenty of nice walks and views to discover. The sea is just 25 minutes by car, but you soon might find that you don't want to leave the place anyway.

The yoga retreat offers a simple outdoor kitchen, an outdoor shower (cold water), a simple composting toilet, many places and hammocks to relax and 2-person tents for the night. Space for parking your van or putting up your own tent is plenty as well.

From most major cities in Portugal you'll find bus transport to Aljezur, actually from Lisbon it's an easy 3.5h bus ride. The Freevolution camp is still about 10 minutes by car from town, about 1h to walk or 35min by bike.


What they say
Maria from Germany
"Staying with Dan was a very good and unique experience I will never forget. Dan is a super kind and open person, who loves to help people and believes in what he does. Hearing about his project and plans for the future just amazed me and I believe that one day all the things he gives will be returned back. To share and to love everything/ everyone unconditionally is so important."


---

Silvia from Italy
"Dan's place is an idyllic eucalyptus forest in the middle of Aljezur hills, with a stunning starry sky that just leave you speechless. Dan is an amazing person, always willing to share and inspire. That's not all... his project Freevolution is deeply focused on sharing lifestyle and inspiring people to create a better future. And that's just what happened to me. I was really pleased to get in touch with Dan's positivity and determination to change the world. He gave me a great hope and a lot of good energy. The long discussions about the search of happiness reminded me that life is simple and that to live sustainably is the better way."


---

Max from Germany
"My close friend Dan is an excellent teacher, i learned such a lot of things from him. We spent a lot of time together and during this time, he enlarged my horizon (The way of seeing the world) enormously! Since I am back in Germany, I can feel the big difference, being back into the rush, following absurd habits and forgetting to do what you really love! Therefore i recommend to everybody to learn about this remarkable, courageous, very logical project/ idea and if it's possible for you, to meet Dan Freevolution personally!"


---

Mauro from Portugal
"The Freevolution camp is awesome! A chilled environment combined with an ocean of knowledge and great energy from the mentor Dan! Como on over to meditate, do some yoga, breathwork, permaculture courses, surf fitness and surf lessons."
Booking
By using this form you consent to getting contacted by us. This form collects your data only for contacting and addressing of your person regarding your enquiry. We don't hand out your data to others.